السلام عليكم & Hi...
Ahad hari ni.
Dah tengok
wayang
Iron Man 3
tu??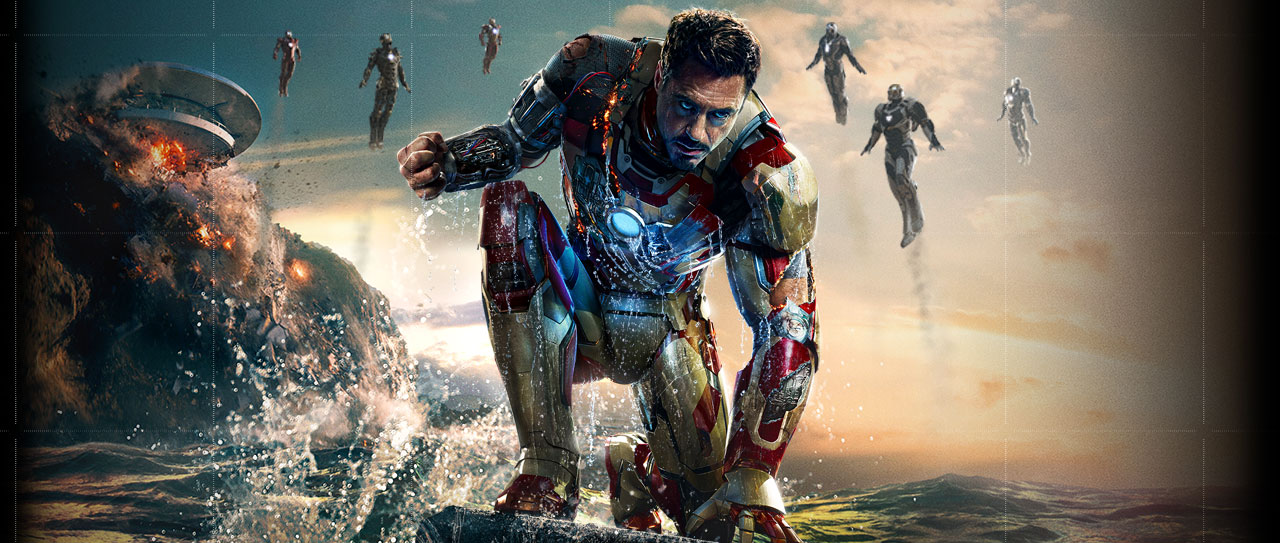 Marvel's "Iron Man 3" pits brash-but-brilliant industrialist Tony Stark/Iron Man against an enemy whose reach knows no bounds. When Stark finds his personal world destroyed at his enemy's hands, he embarks on a harrowing quest to find those responsible. This journey, at every turn, will test his mettle. With his back against the wall, Stark is left to survive by his own devices, relying on his ingenuity and instincts to protect those closest to him. As he fights his way back, Stark discovers the answer to the question that has secretly haunted him: does the man make the suit

or does the suit make the man?
Starring Robert Downey Jr., Gwyneth Paltrow, Don Cheadle, Guy Pearce, Rebecca Hall, Stephanie Szostak, James Badge Dale with Jon Favreau and Ben Kingsley, "Iron Man 3" is directed by Shane Black from a screenplay by Drew Pearce & Shane Black and is based on Marvel's iconic Super Hero Iron Man, who first appeared on the pages of "Tales of Suspense" (#39) in 1963 and had his solo comic book debut with "The Invincible Iron Man" (#1) in May of 1968.
Serius, kali ni jalan citer best.. Malam tadi kami anak beranak pi tengok wayang citer Iron Man 3. My mom xmau join kali ni.. Hehehe dia kate klu citer melayu dia nak la pi.. Ok ok nnt kiter tunggu citer best sikit ya mak..
Ticket kami 2 dewasa + 3 kanak2
Time q beli ticket. Ramai...
Yang ini q lagi untuk masuk cinema pulak.. Sampai ke dinding belakang. Pecah Panggung betul.. :)
Yang ini Iron Man saya. mihmihmih
Kami tengok cinema pukul 8pm. Dalam 10pm lebih habis citer tu.. Bestnyer tengok besi2 tu.. Banyak duit ongputih ni ya.. hahaha
Ok, citer baru kuar kan, so ramainye umat. Me & hubby singgah Space u8 lepas balik dari keje petang semalam utk beli ticket. Klu x, habis tau. Itu pon beratur panjang. Dapat kerusi 2nd raw paling depan, Haaaa kau.. xpela janji bawak budak2 ni tengok..
Petang masa beli ticket, me jumpa my best friend Min... Ohh darling ilang rindu i kat u jap.. hehehe Take care ya kandungan u tu. Hopefully di kurniakan baby yg sihat, comel macam kakak & abangnye...
Ok. Bawak anak2 ke cinema ni kadang2 ok, kadang2 mengamuk. Nasib baik semalam bby Kimie sangat2 good behave, hehehe nyot2 sepanjang citer kau then tido.. heheheh xpe janji xnangis. Ade tips sikit; Kasi anak2 anda makan dengan kenyang sebelum masuk cinema. Yang baby2 pulak make sure tukar pampers dulu sebab dalam tu sejuk sgt, atleast pampers tu xdeklah penuh terus masa duduk dalam. Sweater penting kan..
Ok.. Sampai sini dulu ya...
Selamat menonton Iron Man 3!!
sudi clicks?? :D